Fish Eye is, no doubt, the most interesting of the trio. Fish is an acrobat in the Dead Moon Circus. He's also a homosexual male who can also be considered a transvestite because he always disguises himself as a girl. In the dub though, he is referred to as she, in order to make the show appropriate for children in the U.S.
I love the trio so much, it's hard to pick a favorite! But if I had to pick, I guess it would be Fish Eye since he's gay and loves makeup almost as much as I do.
The funniest part about Fish Eye is his costume. He reminds me of the mascot for the tire company, Michelin. I've gotten more used to it now and to me, Fish Eye just wouldn't be Fish Eye with out that ridicules costume.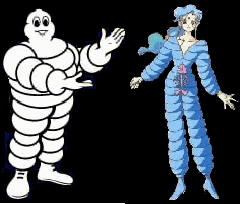 Below, is Fish proving to the world that he is a man.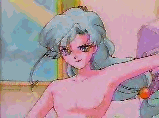 Here are some more pictures of Fish.