Hawks Eye is "the smart one" of the trio. In my opinion, he can be just as silly as Tiger. Hawks Eye basically traps his victims with the same approach as Tigers Eye but a little more accurate at times and he doesn't usually look as silly in the end as Tiger. Hawks Eye is a fire breather (fire blower, etc.). In episode 131 Driven Dreamer, Hawk amazingly beats Mercury's attack with a fire blowing trick!
Hawks Eye has a very unusual taste in clothes, like all of the trio, and he's the only one who wears a skirt. Hawks Eye is, in my opinion, cute, but not as cute as Tiger!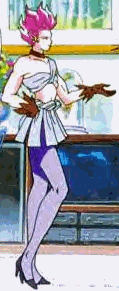 Here's Hawk in disguise (below).
The picture below is from episode 131 where Hawk tries to look like this woman's dead husband. I think you'll agree that Hawks Eye looks retarded in this disguise!